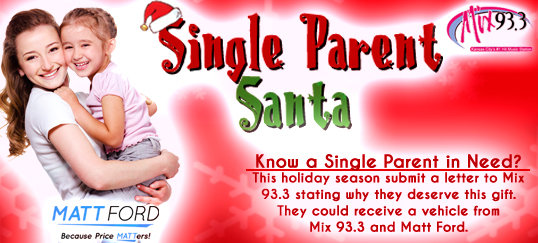 Mix 93.3 and Matt Ford are teaming up to make the holidays brighter for a single parent and his or her family by awarding one family with a car!
If you are a single parent in need of help for the holidays, take a minute to complete the entry form below. Share a little bit about yourself, your family and your family's circumstance. Or, if you have a loved one who could benefit from some help this holiday season, nominate them and tell us why they could use something special!
The winning parent and their family will not only receive a vehicle from Matt Ford, but will also win a $500 gift card from Apple Market and a $200 gift card to Pizza Shoppe!
In entering this contest I understand that my information may be shared on the radio station.
One entry per person. Multiple entries will be disqualified.
CLICK HERE for contest rules.